Beginning with the release of AnzioWin and Anzio Lite versions 12.4, we established a way to "field-activate" Anzio. This means that you can now download and install AnzioWin or Anzio Lite from our web site or off of a CD and apply a license code and serial number to convert the 60-day evaluation copy to a registered copy.
Activation licenses can be obtained direct from Rasmussen Software, Inc. by ordering online or by giving us a call. Also you can obtain licenses from any of our 200 plus resellers around the world.
The license activation codes can be entered either at startup or through the Help menu and the "Enter license number..." dialog.
Please note: When using Anzio on a Windows Vista or later computer, the user account control may prevent the computer from keeping the license information.  The solution to this problem is to run Anzio with elevated priviledges when entering the license information. To do this you will need to right click on the Anzio desktop icon and choose "Run as Administrator" to open Anzio and then enter the license codes as prompted. 
When AnzioWin or Anzio Lite first starts, you will see a dialog box similar to the one below.
This screen will show the number of days remaining, the program you are running and a button to enter the license code.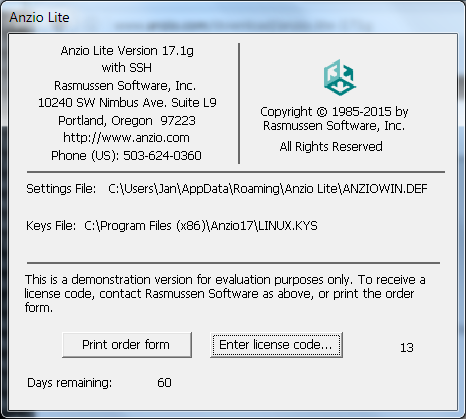 By pressing this button, or using the menu item, you will see the dialog to enter the license code information.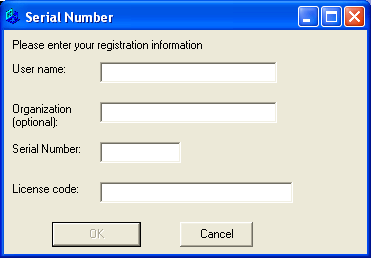 The User name is either the name on the license or the user of that particular computer.  The Organization should be entered if not entered as the user.  The Serial Number and the License code are supplied on the Software License received.
Once you enter a name, a valid serial number and activation code, you will have registered the program and it will no longer expire in so many days.
Note: The license serial number and code are version specific - i.e. the codes for Anzio Lite will not activate AnzioWin, the codes for version 16 will not activate version 17.
---
---
---
Current Product Downloads
---