When you first run AnzioWin or Anzio Lite, you will see the following screen.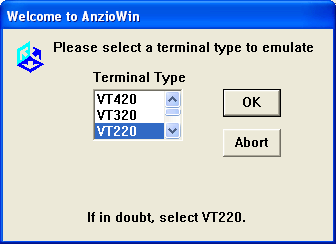 This is the terminal type under which Anzio will run. This terminal type must match the host end or things may not work properly (you must be running under the same terminal type at the host as you are at the PC). The most common selection is "vt220" and most host systems support this emulation type.
The next screen will be a countdown screen if you are running an evaluation copy of Anzio Lite or AnzioWin. See the document on Activating Anzio for more information.
The next screen will ask you for your connection type. These include connection over TCP/IP via Telnet, Rlogin (new in version12.1) or PicLan, over Serial (modem or direct-cabled connection) or over TAPI (new in version 12.1). Select the appropriate connection type and if necessary, set the appropriate connection parameters.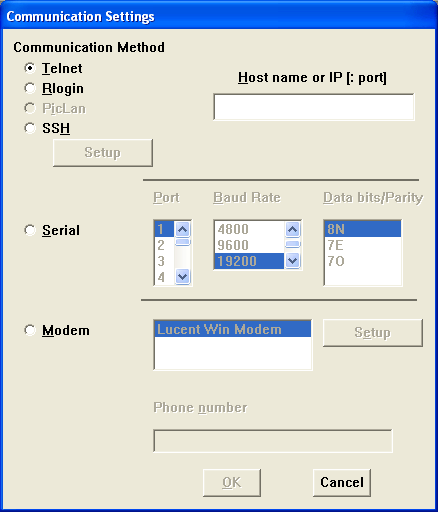 You should then become attached to the specified host. For modem and serial connections, you may have to first hit the Enter key or send an Alt-B (Break) to the host. For modems you may have to first use the Dial dialog under the Communications menu in order to establish the connection
Saving settings
At any time, you can go to the File menu and do Save settings once everything is as you want it to be.
If you have not saved settings, prior to quitting your first session, Anzio will ask you if you wish to save parameters.

Say "Yes". When the File Dialog comes up, simply click "OK". This will save your current configuration under the default parameter file name so it is ready for you the next time you wish to log in.
---
---
---
Current Product Downloads
---